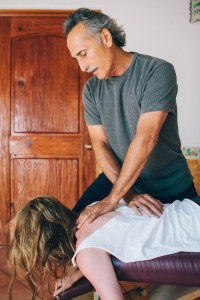 Dr. Steven Paredes D.C., C.C.N., C,C,S,P.

As a licensed Chiropractor, Dr. Paredes utilizes a holistic approach to treatment and health maintenance. This approach considers the lifestyle, diet, posture, and biomechanics of each individual. 27 years of experience in the health and fitness field he has acquired an extensive background that ranges from Yoga Instructor, Personal Trainer, Massage Therapist to a Chiropractic Health Practitioner.
Dr. Paredes is currently in private practice at Solana Beach Health Center where he offers full chiropractic care, nutritional counseling, yoga and rehabilitative exercise therapy, posture, gait analysis, orthotics prescription, and therapeutic massage.
Dr. Paredes maintains an on-going association with Rancho La Puerta Health Spa as a developer and consultant for their back care program, massage staff trainer and therapist.
Education/Professional Affiliations:
Certified Doctor of Chiropractic, Cleveland Chiropractic Collage, 1993
B.S. in Soil Science, CalPoly, San Luis Obispo, 1978
Certified Chiropractic Sports Practitioner, American Chiropractic Association
Member of the International Association of Yoga Therapist and the California Yoga Teachers Association
Faculty of Loyola Marymount Yoga Therapist Program (YTRx)
Licensing:
Chiropractic State Licenses: California
Certified Vini Yoga Instructor: Samata International Yoga and Health Institute
Certified Clinical Nutritionist